CLUW Voter Registration Reporting Form
The Coalition of Labor Union Women is partnering with the League of Women Voters and is promoting Voter Registration for the 2014 Mid-Term Elections.
We are requesting that you download the CLUW Voter Registration Report Form, complete it and scan it and E-mail it to vote@cluw.net on or before October 8, 2014 so that we can track the results of this information. This form is also available in the Member Resources - Downloads Section for all Registered Members.
League of Women Voters Challenge
CLUW Accepts LWV Challenge! Will you?
The Coalition of Labor Union Women (CLUW) is partnering with the League of Women Voters (LWV) in a push to increase the number of registered voters before the 2014 Election. At a time when millions of eligible voters are unregistered, or have not updated their voter registration record if they have moved, it's up to us to get active in our communities and make sure as many voters as possible have the opportunity to participate.
Millions of voters report that they miss out on the chance to vote because they missed a voter registration deadline or didn't know they needed to up- date their registration when they moved. Election Day 2014 is about our jobs, our health, and our communities—and we all need to weigh in. Join us to learn how you can promote voter registration and help every eligible voter have their say on Election Day.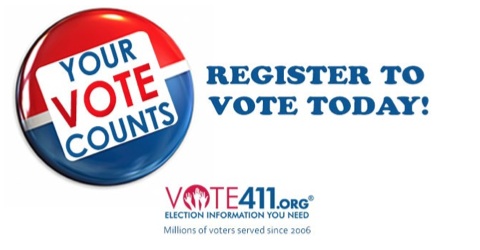 Challenge: Help Us Register 1,000 New Voters!
Go to Vote411.org

Get info on your state's rules

Direct people to vote411.org/register
On September 22, at 7:00 PM EDT, join our National Town Hall Teleforum (see link below)

Celebrate National Voter Registration Day on September 23 and join local efforts to register voters
CLUW National Executive Board Highlights
The Coalition of Labor Union Women held its National Executive Board Meeting in Baltimore. We would like to thank the International Association of Machinist and Aerospace Workers (IAM) for making this CLUW Video possible.
YOUR VOTE – IT'S YOUR RIGHT – NOT A PRIVILEGE!!
By Connie Leak President, Coalition of Labor Union Women Press Associates, Inc. Labor Day issue This Labor Day, your vote is critical to your future as never before.  And for working women the results of the November 2014 election will determine much about your life on and off the job.
Read More...
Paycheck Fairness Act is Coming to Vote - Immediate Action Needed
September 9, 2014: We have just learned that the Paycheck Fairness Act (new bill number is S.2199) will be coming to a vote this week – as early as tomorrow morning - in the Senate. The Paycheck Fairness Act would deter wage discrimination by closing loopholes in the Equal Pay Act and barring retaliation against workers who disclose their wages to coworkers.
In 2014—more than 50 years after the passage of the Equal Pay Act—women still only make an average of 77 cents to a man's dollar with Black women earning 64 cents and Hispanic women earning 53 cents for every dollar earned by white men.
Please contact your Senators and ask them to support equal pay by voting YES for the Paycheck Fairness Act.
You may phone the U.S. Capitol Switchboard at 202.224.3121. A switchboard operator will connect you directly with the Senate office you request. To locate your Senators' office you can also find it by clicking here.
Labor is Largest Delegation at White House Working Families Summit: CLUW Plays Active Role in Pre-Summit 'Speak Up!' Event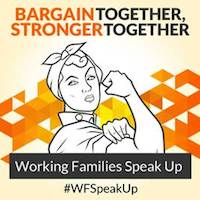 More than 1,000 people were in attendance at the White House Summit on Working Families on June 23, which was convened to start an important conversation about issues affecting working families: accessing good jobs, raising the minimum wage, creating flexible schedules, securing paid family leave, providing quality affordable child care.
The 250 representatives from organized labor and worker centers made up the largest delegation there – which was obvious every time someone on the stage or at a mike said the word "union" or "collective bargaining."

The day before, labor/work center delegates gathered at the AFL-CIO headquarters for a Labor Speak Up!" event that provided an opportunity for delegates to share their stories both formally and informally about work and work-life issues and the value of a union and a collective bargaining agreement –especially for women and families.

See photo below of CLUW Delegation. Read more by clicking here.
White House Summit Focuses on Issues Important to Working Women and Families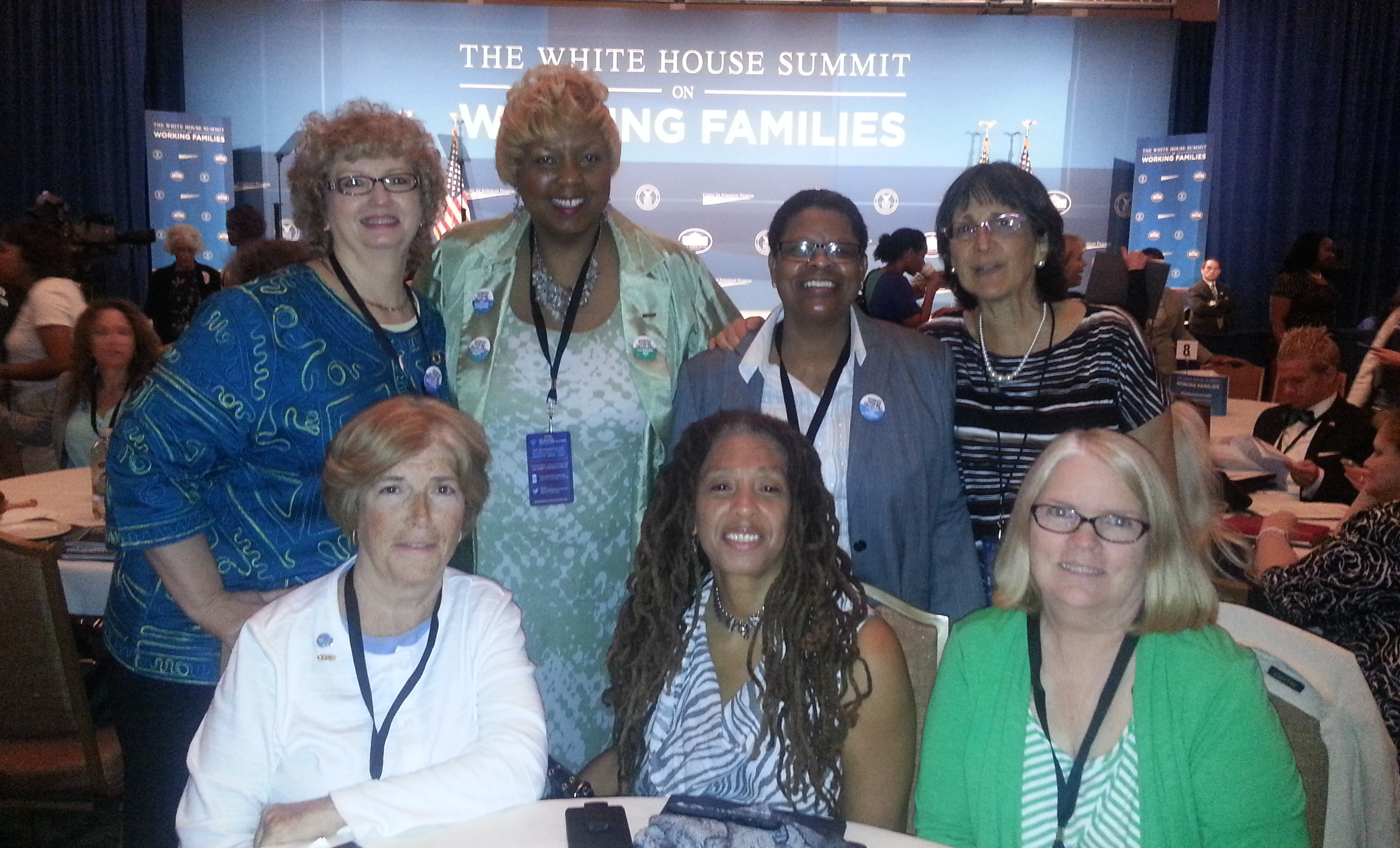 The 250+ union delegation (out of 1,000 in attendance) was the biggest delegation at Monday's White House Summit. This fact was obvious each time reference was made to unions or collective bargaining . The "official" CLUW delegation was small, due to limited tickets available, however, there were many CLUW members in attendance, representing their respective union. Here is a photo of the CLUW delegation. From the left, front – Vice Pres. Elisa Riordan (CWA), Vice Pres. Carolyn J. Williams (IBEW), Membership Coord. Karen See (APWU); back row -- Exec. Vice Pres. Dolores Gorczyca (IFPTE), CLUW Pres. Connie Leak (UAW), Vice Pres. Sarah Reynolds (ATU), Special Asst. to the Pres. Carolyn Jacobson (UAW). Read more by clicking here.
"Next Generation of IBEW Organizing" Features CLUW Women

This video entitled the "Next Generation of IBEW Organizing" shows the Youth Movement within IBEW Local 1245, in California.
All of the women in this video are active members of the Central California Chapter of CLUW. One of the members is Donchele Soper who was one of the participants in the Young Workers Panel at the 2013 CLUW Convention in Reno, Nevada.
| | | |
| --- | --- | --- |
| | | |
| | | |
| | | |
Washington, DC (July 31, 2014) - Today the AFL-CIO Executive Council unanimously passed a statement on "Hobby Lobby: Yet Another Supreme Court Decision That Harms Women's Health and Threatens Worker Rights" that states…" The Hobby Lobby ruling is a major blow in the struggle for women's health and threatens the Affordable Care Act's goal of ensuring that all working families have access to cost-effective preventive health care. By allowing the owners of companies to pick and choose which provisions of the law they will follow, the Supreme Court's ruling undermines workers' rights and, in particular, will make it much more difficult for women to get access to the care they need. The decision also raises the specter of employers arguing that religious objections should override their responsibilities under minimum wage, civil rights, and other workplace laws."… The full statement can be found here.
Elizabeth Shuler, AFL-CIO Secretary-Treasurer commented on the issue, "The Hobby Lobby decision puts a sharp point on a string of recent Supreme Court rulings that undermine women's health and threaten workers. And it even takes things one step further – allowing corporations to assert religious freedom claims. In this case that means working women are denied contraception as part of their health plans. But the ruling also raises the specter that the same religious freedom argument could be used to gut minimum wage, civil rights, and other workplace protections."
CLUW President Connie Leak, a member of the AFL-CIO's Committee on Women Workers that drafted the statement had issued one on behalf of CLUW a few weeks ago that included, "We hope American voters remember these court decisions when it comes to voting in federal elections, as it is the President who appoints these justices and the Senate that confirms them."
APWU President Mark Dimondstein who introduced language to strengthen the AFL-CIO's statement today by referencing additional Supreme Court rulings commented, "All three of the Supreme Court decisions (Hobby Lobby, Harris and Noel Canning) are an attack on working class women. The attack on women's rights in the workplace must be viewed as an attack on the rights of all workers."
Dolores Gorczyca, CLUW Executive Vice President who attended the meeting," was very pleased with the response of the Executive Council and the inclusion of the expanded language."

This is not a new issue. In January 2012 President Obama announced his decision to implement a provision of the Affordable Care Act that requires health plans to cover preventive services, including contraceptives without co-payments or deductibles and immediately the backlash started.

CLUW has been a strong advocate in recognizing women's health care decisions as being a right and not a privilege. Many of those in Congress who are trying to strip away those rights are the same persons who want to deny workers a voice at work. If ever there was a time to mobilize and vote – it is now!!