Contraceptive Equity Project
As union activists, we have the ability to make sure that union women (and the wives of male union members) have the best health benefits possible, including comprehensive contraceptive coverage.
CLUW established the Contraceptive Equity Project in the Spring of 2001 to inform union members and all working women about legal, medical, political and collective bargaining issues related to gaining contraceptive coverage in health insurance plans. Right now, women pay on average 68 percent more out of pocket for health care expenses than men—largely as a result of having to pay for contraception.
What is Contraceptive Equity?
Contraceptive equity means simple fairness. If a health plan covers prescription drugs and devices, it has to cover contraception too. In 2000, the Equal Employment Opportunity Commission (EEOC) ruled that employers may not discriminate against women in their health insurance plans by denying benefits for prescription contraceptives, if they provide benefits for drugs, devices and services used to prevent other medical conditions.
2010: Guaranteeing Contraceptive Coverage In All New Health Insurance Plans

CLUW is pleased to link to the National Women's Law Center's material on Guaranteeing Contraceptive Coverage In All New Health Insurance Plans. CLUW works closely with the National Women's Law Center on a number of issues. CLUW and the NWLC are both members of the National Council of Women's Organizations.

Under the new health care law that went into effect in September 2010, all new health insurance plans are required to cover certain preventive health care services, including mammograms, smoking cessation treatment, and folic acid, among others, and provide them to patients at no cost.
The law also requires the Department of Health and Human Services to identify additional preventive health services for women that should be covered and provided to patients at no cost. The Department has asked the Institute of Medicine, an organization that provides authoritative, unbiased advice to decision makers on health and medical issues, to review the available evidence and recommend the additional preventive health services for women that should be included.
Contraception is critical preventive health care for women and should be covered as part of a woman's preventive health benefits.
---
Contraceptive Equity 2012: Who Would Have Thought We Would Still Be Fighting This Fight?
CLUW's Contraceptive Equity Project was created in 2001 to make sure that unions knew they had a right to demand contraceptive coverage in their health plans if the plan covered other preventive drugs and devices. When it shut its doors in early 2004, the project had succeeded in assisting millions of union families secure contraceptive equity in their health plans. Even one union with a 94 percent male membership, the Masters, Mates and Pilots Union, realized that this was a "family issue" and successfully secured coverage.
A study released in June 2004, by the well-respected Guttmacher Institute, noted that the contraceptive equity campaign had "come a long way on getting insurance plans to cover contraception." However, it also noted that "too little information was available from employers who self-insure – typically large companies – to be meaningful. About half of all employee benefit plans are administered by the companies themselves and are not subject to the state coverage mandates."
As many union health plans fall into this category, on this page, CLUW continued to urge union women to check to see if their plans covered contraception… and if the plan didn't, CLUW asked them to urge their respective union to pursue the issue… reminding them that "the union can threaten the employer with a law suit under Title VII of the 1964 Civil Rights Act."
Fast forward to 2012: Thanks to Sen. Barbara Mikulski (D. MD), the Affordable Care Act (ACA) includes a provision ensuring preventive health care for women in new plans, starting in 2014. On Jan. 20, 2012, the Obama Administration announced the finalized guidelines under ACA for contraceptive coverage by insurance plans. The guidelines would guarantee all new insurance plans will cover preventive services, as identified by HHS, with no co-pay. HHS stood by its interim decision last summer saying it would issue a final rule requiring that women receive the full spectrum of FDA-approved contraceptives without co-pays, and also retained an exemption for certain religious employers.
Women's groups and other progressive organizations celebrated the decision. Immediately, however, the backlash started: The Conference of Catholic Bishops started a push to deny workers in Catholic hospitals, social service agencies, etc. the right to birth control devices and contraceptives. Coincidently polls released the same week as the decision indicated that a majority of Catholics believe that employers should provide health care plans that cover contraception.
Women's groups and their allies (including CLUW) quickly mobilized to fight the attack through the Coalition to Protect Women's Health Care. The group is urging activists to sign the petition on the website and ask friends to sign, follow them on Twitter and tweet your support (use #supportwomen in all tweets).
CLUW contributed articles on the subject:
President Obama announced an "accommodation" February 10, 2012 in which insurance companies rather than religious institutions will pay for employees' contraceptive coverage.
On March 1 the Senate voted 51-48 to table the Blunt Amendment. Had it passed it would have permitted any employer to deny health coverage (such as mammography) to employees based on the employer's moral objection.
In pitching the battle to its lowest point, Sandra Fluke, the student who testified before the House Democratic Steering and Policy Committee after House Republicans refused to let her testify, has been subjected to vicious and inappropriate attacks.

But the attacks on women's health are not going to stop. Republicans in the House of Representatives are considering legislation similar to the Blunt Amendment, and the US Conference of Catholic Bishops have vowed to continue their campaign against birth control coverage
CLUW, at its National Executive Board meeting on March 9, reiterated its position in support of contraceptive equity and urged the AFL-CIO to do the same, which it did at its council meeting on March 14 by adopting this statement. Click here for a story on the AFL-CIO statement.
For more information on the Affordable Care Act as it relates to women, see the Women's Health Task Force, which is maintained by the National Council of Women's Organizations (CLUW is an affiliate).
---
CLUW's Carolyn Jacobson writes in Labor Notes how some organizations are mobilizing against the Catholic bishops' campaign to get religious-affiliated institutions exempted from providing contraceptive coverage:
Press Associates, Inc. (PAI) – 3/16/2012
IN WAKE OF CONTROVERSY, FED DEFENDS WOMEN'S EQUAL ACCESS TO CONTRACEPTION
ORLANDO, Fla. (PAI)--In the wake of a Republican-induced controversy over contraceptive rights and health care, the AFL-CIO has stepped forward to defend women's equal access to contraception "regardless of where they work."
The statement, pushed by the Coalition of Labor Union Women, adds that "denial of contraceptive coverage is seen as discrimination against women and an attack on workers' right to basic health coverage" under the new health care law.
The federation waded into the contraceptive rights controversy, for the first time ever, after a furor erupted over an Obama administration decision that institutions – though not churches – run by religious organizations must nonetheless provide contraceptive coverage to women through the institutions' health care plans.
Complaints, mostly from the GOP and the Roman Catholic Church, arose that the regulation, part of a set of federal rules making contraceptive coverage part of basic health care under the new law, would force institutions to provide the coverage even when it goes against their religious principles.
To solve that, the administration said the institutions' insurers – not the protesting institutions, such as hospitals and schools -- must pay for contraceptive coverage for their female workers. That set off another GOP-inspired political brouhaha.
CLUW President Karen See, who helped draft the AFL-CIO statement as a member of its committee on women workers, said, "The labor movement's support of contraceptive access is the right thing to do, particularly at a time when working women are under assault and the women's vote will be a determining factor in this election."
And AFL-CIO Executive Council member Nancy Wohlforth, retired Secretary-Treasurer of the Office and Professional Employees and co-founder of Pride at Work, added, "The American labor movement took a principled stand on reproductive rights. The Republicans will continue to use this issue to push their right wing agenda through November." The fed's March 14 statement came to the defense of women workers.
"The right to quality health care has deteriorated into an attack on the character of the women who want nothing more than to have a personal decision in the matter," the fed statement said. "Contraception is not only important in helping women and men plan their families, it is also used to treat or prevent many health conditions that affect women, including reducing their risk of developing ovarian and endometrial cancers. All women should have access to quality health care at a reasonable cost that is not determined by political agendas."
---
Contraceptive Equity Tool Kit
These materials can assist you in bargaining or lobbying for contraceptive equity and educating co-workers and coalition partners.
Walmart Campaign
UFCW Launches: Making Change At Walmart Campaign:

Who are we?
Making Change at Walmart is a campaign challenging Walmart to help rebuild our economy and strengthen working families. Anchored by the United Food & Commercial Workers (UFCW), we are a coalition of Walmart associates, union members, small business owners, religious leaders, community organizations, women's advocacy groups, multi-ethnic coalitions, elected officials and ordinary citizens who believe that changing Walmart is vital for the future of our country.
How can you get involved?

Sign up to receive our news and action alerts. We'll keep you informed about news and activities in your community and nationally. Also, follow us on Facebook and Twitter.
If you're a Walmart employee, join the Organization United for Respect at Walmart (OUR Walmart.
Why should you get involved?

As the largest private employer in the United States and the world, Walmart is setting the standard for jobs. That standard is so low that hundreds of thousands of its employees are living in poverty—even many that work full time. The problems extend to workers who toil in unsafe working conditions in subcontracted warehouses. And also to workers in developing companies such as China and Bangladesh who make incredibly low wages while manufacturing the goods on Walmart's shelves. That pulls down standards for workers in the United States and around the globe.
Because of its size and political influence, Walmart is affecting much more than just working conditions. Although it has gained much fanfare for its efforts in environmentalism, sustainability has mostly been a public relations campaign for Walmart. The company has written hundreds of press releases and thousands of blog posts, but made little actual progress in reducing the environmental impacts of its products and business.
And Walmart has an outsized impact on our food system. It is the largest and seller of food in this country. That gives Walmart influence over which foods are available to the public, the methods in which food is produced, and the prices paid to producers.
Across this country, in rural and suburban communities, there are too many small businesses to count who have closed their doors due to competition from Walmart. Now, Walmart has aggressively set its sights on the final frontier—large urban communities like New York City and Los Angeles.
The company is also a major contributor to widening gap between the very rich and everyone else. The average full time Walmart "associate" makes about $15,500 a year. And worse, Walmart is pushing more and more workers toward a permanent part-time status. Meanwhile, the six members of the Walton family—heirs to the Walmart fortune and near majority owners of the company—have a combined wealth of $93 billion. That's more than the bottom 30% of Americans combined.
Changing Walmart

Across the country, workers and communities are coming together as one to say enough is enough. It is time for fundamental change at Walmart. For the first time in history, Walmart retail workers have a voice through the Organization United for Respect at Walmart (OUR Walmart). [link to ForRespect.org] With thousands of members in hundreds of stores in more than thirty states, this courageous group of workers is speaking out and beginning to win improvements in their jobs and their lives.
As we have seen throughout history, to truly change a giant like Walmart, the demand has to first come from a company's employees. That's why the work of OUR Walmart is so inspiring and important.
And, through Making Change at Walmart, communities and groups are coming together to stand with OUR Walmart and fight back against all the ways Walmart is pulling down our economy. This website is a hub to keep you informed and give you ways to get involved in this work. Sign up here to get involved.
What Walmart Says and Doesn't Say About Women....
What Walmart says…
Walmart is a great place for women to work.[1]
Walmart is a large employer of women in this country; 815,000 of Walmart's associates – or 57% of its US workforce, are female.[2]
Walmart creates opportunities for female associates to advance in the company.[3]
Walmart's "world-class" employment practices ensure nondiscriminatory treatment of all associates.[4]
Walmart has forged strong relationships with women's organizations by providing them with funding.[5]
Walmart provides opportunities for female-owned supplier companies through new store construction.[6]
Walmart's work environment is "open, engaging and respectful."[7]
Walmart leads on social issues that matter to its customers, of whom 80% are women. [8]
What Walmart doesn't say…
Walmart was the defendant in the largest class action gender discrimination lawsuit in history, Dukes v. Walmart. The plaintiffs alleged Walmart discriminated against women in promotions, pay, and job assignments. The U.S. Supreme Court dismissed the lawsuit in 2011 for technical reasons and many of the plaintiffs are in the process of filing smaller suits.
In Walmart supplier factories around the world, many female workers face discriminatory treatment and toil in sweatshop conditions.[9]
Working parents who need regular childcare have been forced to quit their jobs due to Walmart's scheduling policies. Walmart's insufficient sick days policy also makes it hard for working mothers to care for sick children. [10]

Walmart utilizes a computer-based scheduling system that prioritizes employee flexibility over schedule regularity.[11]

In 2001, female employees at all levels earned less than their male counterparts:

Women at Walmart earned $5,200 less per year than men, on average.

Women in hourly jobs, where the average yearly earnings totaled $18,000, earned $1,100 less per year, or $1.16 less per hour, than men in the same position.

Women in salaried positions, where the average salary was $50,000, earned $14,500 less per year than men in the same position.[12]
Crain's Chicago Business reported in April 2011 that the first female-owned lead general contractor hired to build a Walmart store was in bankruptcy due to cost overruns of building Walmart's first supercenter in Chicago. According to the Associated Press, the majority of the large-scale work was actually contracted out to firms not owned by minorities, while "Wal-Mart chose Garner as the public face of the project, introducing her to media and at other events designed to boost the company's image."[13]
Walmart's low wages are not good for any workers, but they especially hurt women. Female employees are disproportionately represented in low-paying positions. A majority of Walmart managers and officials in the US were men in 2010, even though a majority of Walmart US workers were women.[14]
In 2010, Walmart employed 798,881 female hourly associates,[15] who earn an average wage of just $8.81/hour.[16]
Walmart pushes down women's wages locally. A 2007 study found that the opening of a new Walmart in a metropolitan area depresses wages by 0.5%-1.5% at other retail establishments.[17] This disproportionately affects women, who made up 77.2% of clothing and accessory store workers 60.4% of department and discount store workers, and 59% of general merchandise store workers. [18]
---
[1] http://www.reuters.com/article/2011/10/27/us-walmart-lawsuit-idUSTRE79Q66F20111027
[2] "Associates." Walmart Corporate. http://walmartstores.com/Diversity/309.aspx, accessed 1.27.12.
[3] "Social – Associates." Walmart 2011 Global Responsibility Report. Available online at: http://walmartstores.com/sites/ResponsibilityReport/2011/social_associates_Diversity.aspx, accessed 1.27.12.
[4] "Workplace." Walmart Corporate. http://walmartstores.com/Diversity/307.aspx, accessed 1.27.12.
[5] Walmart 2011 Diversity and Inclusion report. Available at: http://walmartstores.com/Diversity/305.aspx, accessed 1.27.12.
[6] http://www.chicagodefender.com/article-10563-wal-mart-promise-for-minority-contractors-lagging.html
[7] Walmart 2011 Diversity and Inclusion report. Available at: http://walmartstores.com/Diversity/305.aspx, accessed 1.27.12.
[8] Walmart 2011 Diversity and Inclusion report. Available at: http://walmartstores.com/Diversity/305.aspx, accessed 1.27.12.
[9] http://laborrights.org/creating-a-sweatfree-world/wal-mart-campaign
[10] Bethell, Katie. "Wal-Mart's sick sick days policy." MomsRising.org. 12/13/09. Available at: http://www.momsrising.org/blog/wal-marts-sick-sick-days-policy/
[11] Lichtenstein, Nelson. "Why Working at Walmart is Different." Connecticut Law Review Vol. 39, No. 4. May 2007. Available at: http://connecticutlawreview.org/archive/v39n4/Lichtenstein.pdf
[12] Drogin, Richard, Ph.D. "Statistical Analysis of Gender Patterns in Wal-Mart Workforce." 2003. Available at: http://www.walmartclass.com/staticdata/reports/r2.pdf.
[13] http://www.chicagodefender.com/article-10563-wal-mart-promise-for-minority-contractors-lagging.html
[14] "Social – Associates." Walmart 2011 Global Responsibility Report. Available online at: http://walmartstores.com/sites/ResponsibilityReport/2011/social_associates_Diversity.aspx, accessed 1.27.12.
[15] "Social – Associates." Walmart 2011 Global Responsibility Report. Available online at: http://walmartstores.com/sites/ResponsibilityReport/2011/social_associates_Diversity.aspx, accessed 1.27.12.
[16] http://www.gothamgazette.com/article/searchlight/20110214/203/3463
[17] Dube, Arindrajit, T. William Lester and Barry Eidlin. "A Downward Push: The Impact of Wal-mart Stores on Retail Wages and Benefits." UC Berkeley Center for Labor Research and Education. December 2007. Available at: http://laborcenter.berkeley.edu/retail/walmart_downward_push07.pdf
[18] "Women in the Labor Force: A Data Book." US Bureau of Labor Statistics Report 1026. December 2010. http://www.bls.gov/cps/wlf-databook-2010.pdf. Accessed 5/17/11.
No Advances for Women at Walmart
CLUW's Cervical Cancer Awareness Program
Preventing Cervical Cancer: What you need to know
The Coalition of Labor Union Women participated in a July 14, 2009 briefing on cervical cancer prevention, the second of two events focusing on sexually transmitted infections hosted by the National Council of Women's Organizations (NCWO), the American Social Health Association, and the National Partnership for Women and Families. Funded by a grant from HHS, Office of Women's Health, the briefings' primary audience was NCWO member organizations (CLUW being one) — particularly those able to get this information out to young women of color.
The event was moderated by Marilyn Keefe of the National Partnership for Women & Families, and Carolyn Jacobson, Director of Cervical Cancer Prevention Works, Coalition of Labor Union.
Download the following speakers' slide presentations:
Beth Huff, MSN, FNP-BC, Assistant Professor in the Department of Obstetrics and Gynecology, Vanderbilt University Medical Center, Colposcopy Clinic Coordinator
"

Preventing Cervical Cancer: What you need to know

" (pdf)
Maria Trent, MD, Assistant Professor at the Johns Hopkins Department of Pediatrics
"

HPV and Adolescent Girls & Young Adult Women: Prevention is Key

" (pdf)
John Schiller, Ph.D., Head, Neoplastic Disease Section, National Cancer Institute, National Institutes of Health
"

An Update on HPV Vaccines

" (pdf)
Cervical Cancer Prevention Works (CCPW) is the name of CLUW's cervical cancer awareness project. The project's mission is to empower union women by providing them with information on how to prevent this deadly disease. CLUW's CCPW is funded by Qiagen, one of the companies which makes an FDA-approved test for HPV (the virus that causes 96 percent of cervical cancer cases).
For further information, contact:
Carolyn J. Jacobson, Director, Cervical Cancer Prevention Works
202.508.6901
cjacobson@cluw.org
HPV vaccines are now available for girls and women ages 9-26. Although the vaccines will help prevent many HPV infections, screening will still be needed to prevent cervical cancer.
See: HPV Vaccine: What You Need to Know
View CDC podcast to help find out more about the two HPV vaccines that are available and why boys should consider getting the vaccine.
CLUW's commitment to eliminating Cervical Cancer
In April 2003, the U.S. Food and Drug Administration (FDA) approved a new screening test to help determine which women age 30 and over are at a higher risk of developing cervical cancer. This screening method uses a DNA test to detect human papillomavirus (HPV), one of the most common sexually transmitted diseases, in combination with a Pap test. The DNA test identifies the 13 types of HPV most commonly associated with cervical cancer.
At its March 2003 National Executive Board meeting, CLUW adopted a resolution of support of FDA approval of annual HPV screening for all women 30 and over. CLUW urges all unions to:
Cover all FDA-approved HPV testing, as recommended by the American Cancer Society.
Cover annual office visits with obstetrician or gynecologist for counseling on contraception, sexually transmitted infections, breast and other cancer screening, and, as deemed appropriate by the clinician, cervical cancer screening.
Protect patient confidentiality.
In addition to its own new cervical cancer awareness program -- Cervical Cancer Prevention Works -- CLUW is actively working with public education programs to get this information out.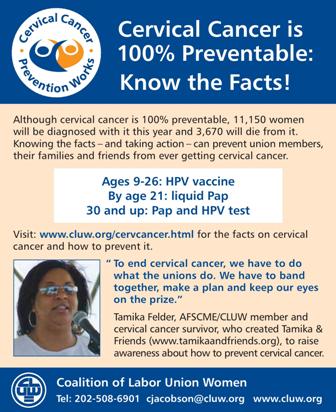 Protect yourself against cervical cancer!
Age 9-26:
Ask your provider about the HPV vaccine
By age 21:
Get a Pap test
Age 30 and up:
Ask your provider for an HPV test along with your Pap
Cervical cancer is one of the few types of cancers that can be prevented through vaccination and regular screening
Your health care provider can determine if you have harmful cell changes in your cervix that can be treated before they develop into cervical cancer
Find out if you carry the virus that puts you at increased risk of developing cervical cancer
Page Last Updated: Jun 30, 2014 (17:13:00)