Paycheck Fairness Act Reintroduced
"For our journey is not complete until our wives, our mothers, and daughters can earn a living equal to their efforts."

From the steps of the Capitol on the occasion of his second inaugural, President Obama spoke about the importance of equal pay. How inspiring!

Senator Barbara Mikulski (D-MD) and Representative Rosa DeLauro (D-CT) are reintroducing the Paycheck Fairness Act TODAY. And they need our help.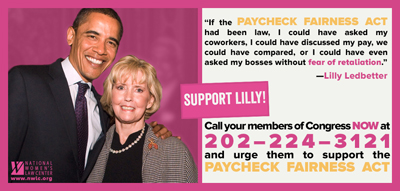 Can you back them up, by taking 3 minutes to call your members of Congress RIGHT NOW? The more calls we make, the more likely your members of Congress will sign on and support this bill to deter wage discrimination.

Here is everything you need to take action:


Call the switchboard at (202) 224-3121. Ask the operator to connect you to your Senators and Representative. If you don't know who your members of Congress are, you can look them up here. When you're connected to their offices, tell the person who answers the phone:

1) I am a constituent. My name is _________.

2) I urge Senator____ or Representative ____ to co-sponsor the Paycheck Fairness Act and speak in support of the bill on the floor.

3) Thank you.

Please remember that you have to call three times to reach both of your Senators and Representative – but it's worth it! Please tell Carol Rosenblatt at the CLUW office 202-508-6951 or csrosenblatt@cluw.org what you were able to do.

Want to learn more about the Paycheck Fairness Act?

This bill would deter wage discrimination by updating the nearly 50-year-old Equal Pay Act, in part by barring retaliation against workers who disclose their own wages to coworkers. It's ridiculous, but no federal law broadly prohibits employers from penalizing and even firing employees just for talking about their salaries.

Remember Lilly Ledbetter? She was told on her first day of work at Goodyear never to discuss her salary with anyone. It wasn't until she found an anonymous note in her locker years later that Lilly realized she was being paid as much as 40 percent less than her male colleagues in the same position. This is exactly why these pay-secrecy policies that punish employees and help hide discrimination must go!

Every call counts! More calls mean more pressure and better results. Please take action today by calling (202) 224-3121.

Thanks for taking action today.