When Women Succeed, America Succeeds: An Economic Agenda for Women and Families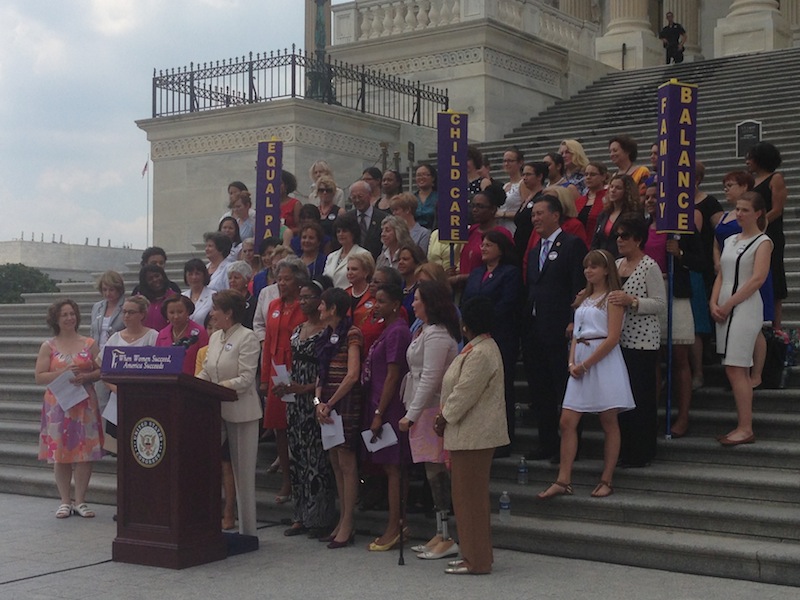 Democratic Leader Nancy Pelosi and House Democratic women rolled out a campaign on July 18th called "When Women Succeed, America Succeeds: An Economic Agenda for Women and Families."
The campaign was announced at a press conference on the steps of the Capitol with temperatures soaring into the high 90's. Leader Pelosi was joined by several members of the House of Representatives and leaders of many organizations that address issues of working women. Amongst those present were the Coalition of Labor Union Women, the AFL-CIO, UFCW, the Feminist Majority, the American Civil Liberties Union, the National Women's Law Center, the National Partnership for Women and Families, the American Association of University Women, the National Council of Women's Organizations and others. In addition to Leader Pelosi, Congresswomen Rosa DeLauro (CT), Donna Edwards (MD), Nydia Velazquez (NY) and Doris Matsui (CA) participated in the press conference along with several women who told their stories.
The campaign agenda focuses on policies that address real economic needs facing women and families: ensuring equal pay for equal work, promoting work and family balance, and providing access to affordable child care.
July 18th represents the 165th anniversary of the Seneca Falls Convention, the first women's rights convention in American history..
Tweeting is taking place on the 18th and 19th: #womensucceed
The following link provides more information about the campaign:
http://www.democraticleader.gov/womensucceed