CLUW Founding Member Susan E. Holleran Inducted Into Labor's International Hall of Fame
Past UAW President Douglas Fraser also an Inductee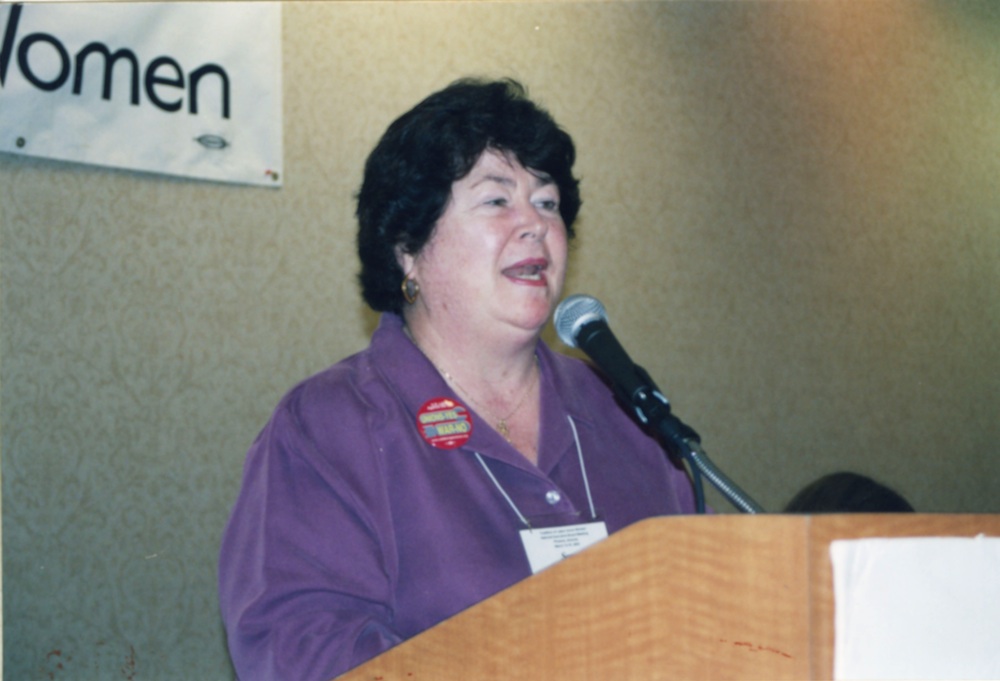 Labor's International Hall of Fame 2014 Induction Ceremony posthumously honored Susan Holleran (1941-2007) who was a founding member of the Coalition of Labor Union Women (CLUW), an AFSCME member, journalist, dedicated trade union activist, a fighter for women's rights and a champion for peace. The ceremony also honored Douglas Fraser, President of the UAW from 1977 to 1983, who was a member of CLUW. Both were honored during an event on Thursday, May 15 at the UAW GM Human Resource Center in Detroit. Labor's International Hall of Fame has inducted more than 100 labor activists, heroes and supporters who have made a difference in the lives of working men and women in this country.
"The Board of Trustees for the Labor's International Hall of Fame solicits names over the summer and announce inductees around Labor Day…I put Susan's name forward as someone who was a quiet heroine. Sure, folks at CLUW and AFSCME know her work, but she isn't a household name like Reuther or Chavez. I thought she was very deserving and so did the Board," said archivist and former director of the Walter P. Reuther Library at Wayne State University, Mike Smith.
Susan was a founding member of the Coalition of Labor Union Women (CLUW) and was elected to its original National Executive Board. Susan also served as CLUW's first Mid-Atlantic regional vice president, chaired its Education Committee, served as chapter president and vice president for the Washington, D.C. area, and also served as the D.C. state vice president and alternate state vice president.
In retirement, Susan volunteered at CLUW's national office in Washington where she assisted the executive director with various responsibilities, including writing articles for the CLUW News. Susan also contributed to CLUW's Cervical Cancer Prevention Works project, where she wrote materials and conducted trainings. In May 2006, she represented CLUW at the Food and Drug Administration's Vaccines and Related Biological Products Advisory Committee Meeting, testifying in support of the Human Papillomavirus vaccine.
In addition to her work with CLUW, Susan Holleran was a labor journalist for AFSCME's national headquarters and its international magazine. Susan was the founding director of the United Labor Agency—a labor social service agency for union members and their families—and she coordinated the first national conference on pay equity which resulted in the founding of the National Committee on Pay Equity in 1979.
In 1982, she became an assistant editor in the Public Affairs department of the American Federation of State, County and Municipal Employees. She covered news from AFSCME affiliates in 15 states and topics of national interest for the International Union's magazine, formerly named Public Employee.
In 2005, Susan was named the recipient of the Max Steinbock Award, the top media prize of the International Labor Communications Association. She also served as a steward for the United Staff Union which represents AFSCME's professional staff. Susan retired from AFSCME in July 2005. She was a member of the National Organization of Women (NOW), active in community service activities of the Metropolitan Washington Council. AFL-CIO, and a member of the D.C. Labor Chorus.
"Susan was a kind, warm, and lovable colleague and friend. We, her brothers and sisters, will miss her dearly. We salute her life and work, we take solace in memories of her, and we extend condolences to her family and friends," wrote the officers and members of the United Staff Union in memoriam.
In addition to her deep commitment to the labor movement, Susan will be remembered for her great generosity.
"I met Susan Holleran in the late 70s at a CLUW-sponsored workshop on Assertiveness. (I believe at the time, Susan was president of the DC Metropolitan CLUW Chapter.) She gently used those techniques on me. Susan convinced me to join CLUW and before I knew it, she had persuaded me to run for office in the CLUW chapter. Susan provided me support and guidance, since being active in an organization-- let alone the labor movement—was new for me. I am forever grateful that our paths crossed and that she took her time to mentor me," said Carol Anderson, Associate Director of AFSCME's Education and Leadership Training Dept.
She contributed regularly to organizations in which she believed, sent gifts to the children of co-workers serving in Iraq and cards to people who were ill. She financed her own trips – and the trips of others – to CLUW events. At AFSCME, Susan is fondly remembered for the birthday parties she hosted for each of her co-workers on each of their birthdays.
Sister Holleran died at age 66 in 2007 unexpectedly, following a brief battle with cervical cancer. Please find more photos of Susan Holleran and the Induction Ceremony in our Photo Gallery.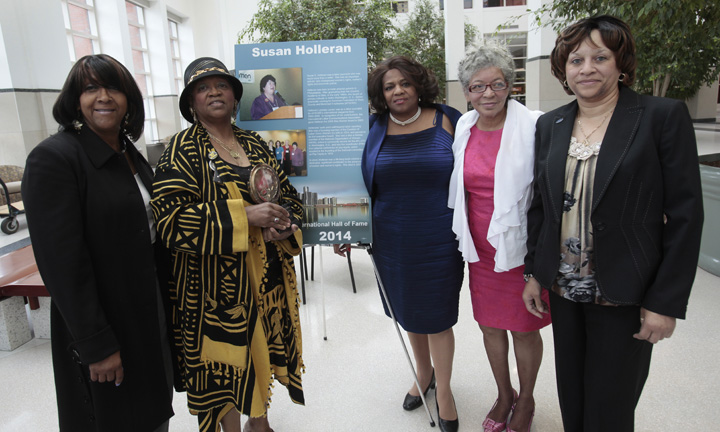 This photo is from the Induction Ceremony: Metro-Detroit CLUW sisters from left to right: Vikki Touchstone (UAW); Millie Hall (OPEIU) Chapter President; Tijuana Morris (DPOA); Val Glynn (Associate Member); Doris McWhite (UAW).