Join CLUW for NEB and Lobby Day March 15-18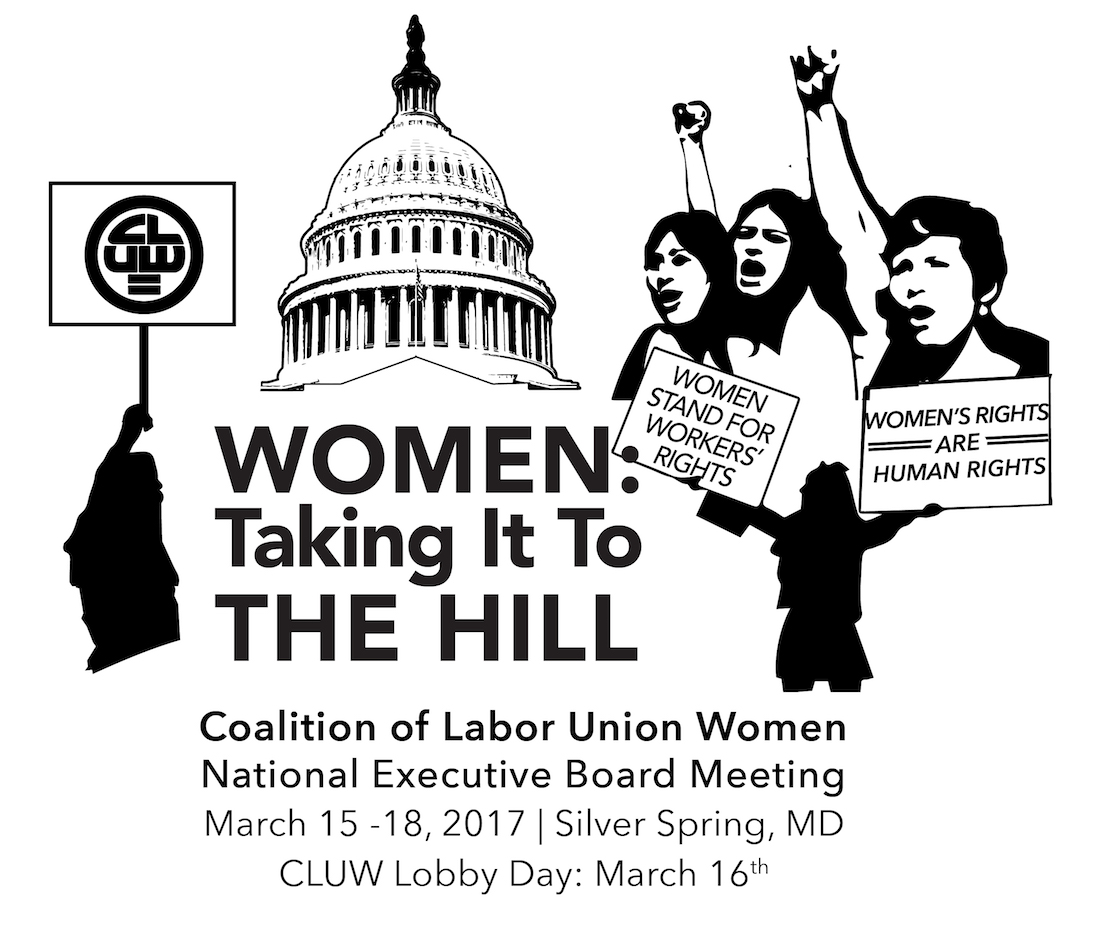 The National Executive Board will be meeting at the Tommy Douglas Conference Center at 10000 New Hampshire Avenue, Silver Spring, MD 20903.

The program theme "WOMEN: Taking it to THE HILL" will be put into action on Thursday, March 16th when we will be conducting a Lobby Day.

ALL CLUW Members are welcome to join the Lobby Day and attend the NEB and committee meetings as observers.

The conference center price is an all-inclusive package including meals, breaks, lodging and meeting facilities. You will be responsible for your own lunch during the Lobby Day on March 16th. Rates are as follows: Single Occupancy: $199.64 inclusive of sales tax; Double Occupancy: $299.73 inclusive of sales tax, $149.87 per person (2 occupants required).

Room reservations should be made no later than February 28th under the CLUW Room Block by calling 240.645.4000 or E-mail: FD2@tommydouglascenter.com. A deposit by check or credit card equal to one-night's room rate is due with each reservation. Failure to cancel a guaranteed reservation at least 48 hours prior to arrival of the reservation will result in forfeiture of advance deposit or one night's room and tax billed to the credit card.

The conference center is deluxe dormitory style with free wireless in guest rooms and public space and access to fitness center and free self-parking available. Check-in is after 3:00 pm and check-out is before 11:00 am.

Commuter charge: (those not utilizing the center lodging): *March 15: $50 (inclusive of sales tax); *March 17 and 18: $70 (inclusive of sales tax). * food and meeting facilities included. See commuter registration form for more details. Commuter form must be completed in addition to regular pre-registration form.

Closest airports are: Baltimore/Washington International Thurgood Marshall Airport and Reagan National Airport.

Complete the registration forms by February 28th.
Pre-Registration Form
Commuter Registration Form
Tentative Agenda
Lobby Day Information