TODAY, Tuesday April 4th is Equal Pay Day: Join the Twitter Storm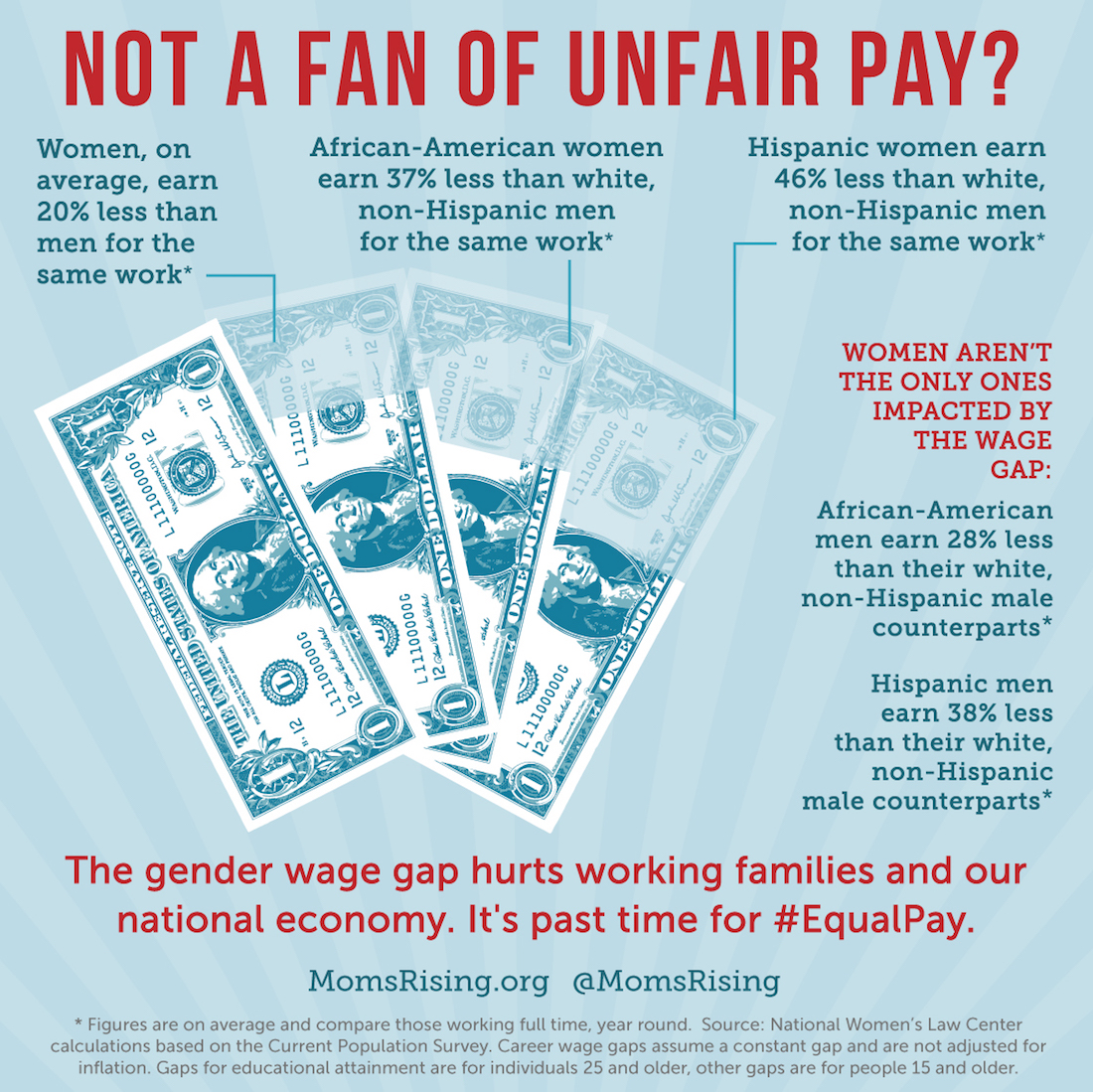 On Tuesday, April 4 – Equal Pay Day, 2017 – CLUW along with women's, labor, and civil rights advocates will participate in an #EqualPayDay Twitter Storm at 2:00 – 3:00 pm ET to mark the day when the average woman's pay finally catches up to the average man's pay from last year. Find tweets below.
On average, women are paid only 80 cents for every $1.00 paid to men. This means that a woman must work more than 15 months to earn what a man earns in 12 months. Over a 40-year career, this can cost a woman and her family more than $400,000. Moreover, while Equal Pay Day for women overall is observed on April 4, the Equal Pay Days for different demographics of women come much later in the year because their gap is much wider. The wage gap for moms compared to dads is 71 cents (May 23, 2017). The gap for White women compared to White, non-Hispanic men is 75 cents (May 1, 2017); the gap for African American women is 63 cents (July 31, 2017); the gap for Native American Women is 58 cents (September 25, 2017); the gap for Latinas is 54 cents (November 2, 2017); and for some Asian American women the gap is so wide it takes more than two years to earn what White, non-Hispanic men earn in one year. The cost to these women and their families can be upwards of $1 million over a 40-year career. This is unacceptable, especially in 2017.
Today, April 4th advocates will call on women and men to speak out in favor of meaningful strategies at the local, state, and federal level to close the gender wage gap for all women, beginning with the federal Paycheck Fairness Act being introduced in Congress this week. The Paycheck Fairness Act will bar retaliation against workers who voluntarily discuss or disclose their wages, close loopholes that have allowed employers to pay women less than men for the same work without any important business purpose related to the job, ensure women can receive the same robust remedies for sex-based pay discrimination that are currently available to those subject to discrimination based on race and ethnicity, and prohibit employers from relying on salary history in determining future pay.
Where: In addition to the tweets below we are asking the public to download a photo of themselves with a state-specific sign -- "Another [INSERT State]ian for Equal Pay" -- and share it on social media using #EqualPayDay and including the twitter handle of their local, federal, and or state lawmaker. State-specific graphics and sample tweets, as well as background materials and other shareable graphics, can be found at www.equalpaytoday.org/equalpaydays
It's 2017 and U.S. women who work full time are still paid just 80 cents for every $1 paid to men. #wagegap #EqualPayDay

In 2016, median weekly pay for union women was $232 more than for non-union women. Unions close the wage gap. #EqualPayDay

In 13 states, Latina women would have to work past age 100 to make up the losses from the lifetime wage gap.http://bit.ly/1MObeTF #EqualPayDay

The #PaycheckFairnessAct would help close the #wagegap by giving workers stronger tools to combat wage discrimination. #EqualPayDay

The gender pay gap hurts working families and our national economy. It's past time for #EqualPay! #EqualPayDay

Disgraceful! Black women who work full time are paid just 63 cents for every dollar paid to white men. #wagegap #EqualPayDay