Twitter Storm July 31st for Black Women's Equal Pay Day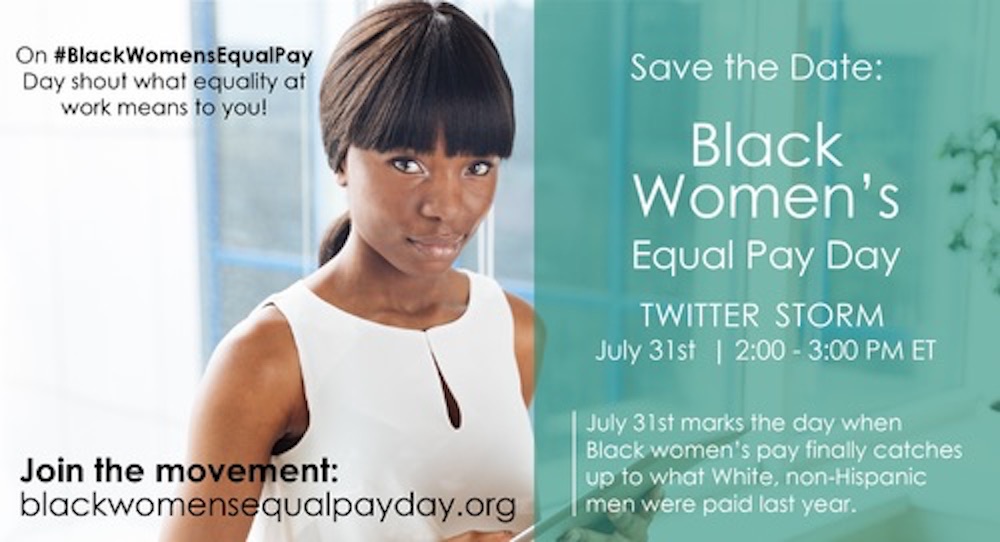 What's coming up on July 31st? Black Women's Equal Pay Day! Far from a celebration, Black Women's Equal Pay Day reveals the date to which the average Black woman in this country has to work to catch up to the earnings the average white man made in 2016.
Let's make this clear. Black women have to work all of 2016 and up to July 31st in 2017, to make the same amount as the average white man made in 2016 alone. That's 63 cents to the white man's dollar. Ridiculous.
This inequity is long standing but we can speak out. This year CLUW is joining efforts with organizations across the country to raise awareness of this injustice by participating in a Twitter Storm from 2:00-3:00 PM ET this Monday, July 31st. This mass social media mobilization makes sure that the hashtag #BlackWomensEqualPay gets trending, enabling all the information, action requests, and voices brought forward to be recognized by a larger audience.
In order to make this work we need your voices! Show your solidarity on July 31st by getting on Twitter between 2:00-3:00pm ET and tweeting out against the wage discrimination impacting Black women using the hashtag #BlackWomensEqualPay. You can share statistics, encouragement to take political action, personal experiences, love notes to the hardworking Black women in your life, etc.
Feel free to write your own tweet or use one of our sample tweets below:
Black women deserve a whole paycheck, not 63% of one. #BlackWomensEqualPay

Recognizing #BlackWomensEqualPay Day. The day in 2017 the average working Black woman has finally caught up to the wages earned by the average white man in 2016.

Black women make this country great, it's time we pay them justly for it. #BlackWomensEqualPay

This #BlackWomensEqualPay Day I'm thanking my union for working to close the pay gap.
For more information on the upcoming Twitter Storm and additional sample tweets please check out:
http://www.equalpaytoday.org/black-womens-equal-pay-day
http://www.aauw.org/event/2017/07/black-womens-epd-twitter-storm/
And for more information regarding the pay disparity for black women, resources, and action links for what you can do about it read more here:
http://www.aauw.org/2015/07/21/black-women-pay-gap/
https://nwlc.org/resources/the-lifetime-wage-gap-by-state-for-black-women/