Join CLUW in a Tweet Storm at 12:30 PM August 22 to Oppose Judge Brett Kavanaugh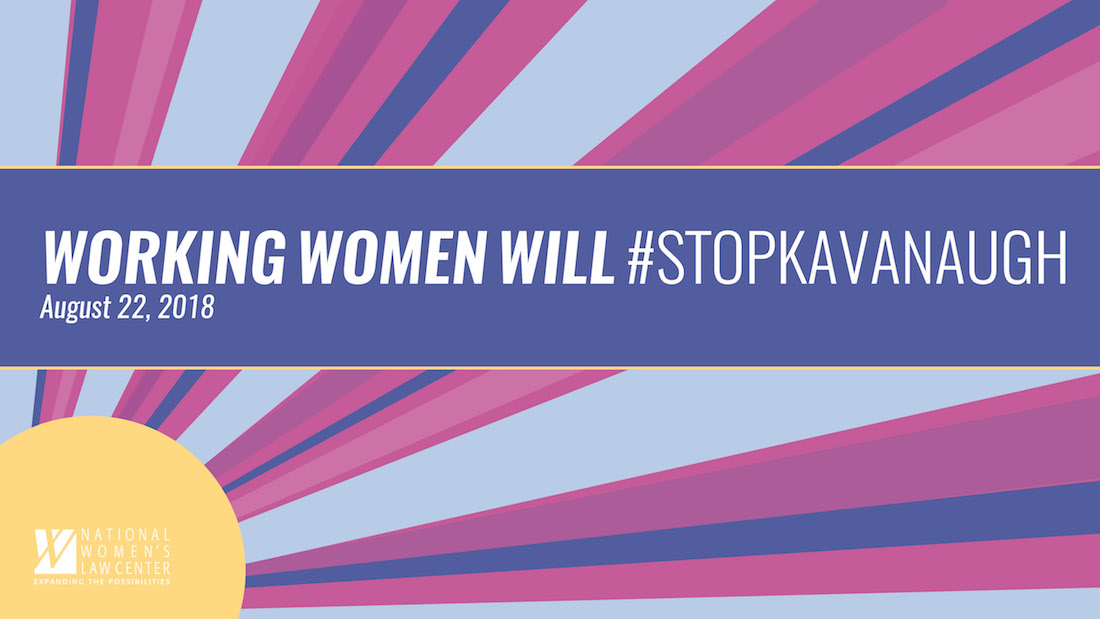 Working women are rising up and speaking out against the nomination of Brett Kavanaugh to the Supreme Court. Time and again, Kavanaugh has ruled against working people, especially those pursuing employment discrimination claims and trying to join together in a union. So much is on the line with Kavanaugh's nomination, including our ability to hold our harassers accountable, to achieve equal pay, to fight pregnancy discrimination, and to organize for our rights at work. We can't let Kavanaugh have a lifetime seat on the highest court.
In opposition to Judge Brett Kavanaugh a Working Women Will #STOPKAVANAUGH Day of Action is taking place TODAY August 22nd with a rally at 12:30 pm in front of the Supreme Court. CLUW is pleased to be co-hosting this event with the AFL-CIO, AFSCME, SEIU, APALA, NWLC and others, demanding that the Senate side with working women.
CLUW President Elise Bryant will be one of the rally speakers! She will be joined by workers (including CLUW member Laura Payne (UA)) telling their stories, as well as Lilly Ledbetter, AFL-CIO Sec.-Treas. Liz Shuler, AFSCME Sec.-Treas. Elissa McBride, APALA, and more.
You can help promote the day of action on social media and specifically follow the National Women's Law Center Facebook page to view the live stream of the rally when it occurs by clicking on here: https://www.facebook.com/nwlc and tweet in support with some of the sample tweets below:
Brett Kavanaugh has consistently ruled against workers pursuing claims of employment discrimination. He built his judicial career by continuously siding with big employers against working people. Call your senators now to #StopKavanaugh! https://on.nwlc.org/2JbNPuI [share with call graphic]
People who face workplace harassment and other forms of discrimination need to be able to hold their employers accountable. But Brett Kavanaugh sees anti-discrimination protection for employees as a burden for employers. #StopKavanaugh #TIMESUP #MeToo https://on.nwlc.org/2L4Pe7f
Why do working women need to #StopKavanaugh? We can't allow the balance of the Supreme Court to shift further in favor of corporate interests and against hard-won protections for working people, including protecting workers from sexual harassment. https://on.nwlc.org/2LJsHRQ
#MeToo? If confirmed to the Supreme Court, Brett Kavanaugh could make it MUCH harder for working women to hold employers accountable for harassment. #StopKavanaugh #TIMESUP https://on.nwlc.org/2L4Pe7f
Supreme Court Justices hold their seats for LIFE. Tell your senators: We can't let the next justice be anti-worker and anti-women like Kavanaugh. #StopKavanaugh #SaveSCOTUS https://on.nwlc.org/2uuIzxQ
Kavanaugh believes your boss' religious beliefs should override your access to birth control coverage. Someone like that doesn't deserve a seat on the highest court in our land. Join working women and send a message to your senators to #StopKavanaugh ↓ https://on.nwlc.org/2uuIzxQ