CLUW, HealthyWomen: Serving the Health Needs of Union Women
The life of a union woman is a busy one. They're often so busy that their own health and wellness can be ignored. This is not okay, and CLUW wants to help change this.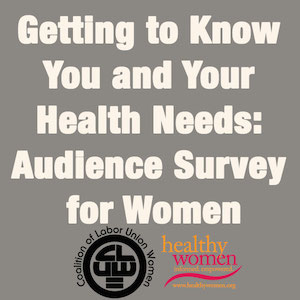 In an effort to bring union women's health to the spotlight, CLUW partnered with HealthyWomen (HW), a leading online resource for women's health, to create a women's health-focused survey. It was live during the month of September. Through this survey, CLUW and HW were able to gain insights into what union women need to and want to know about their health.
Of the 2035 people who took the survey, 63 percent selected diet/nutrition as what they search for most online. Fitness/exercise and aging well were also among the top selections. According to our survey, most people search for health information—preferably articles or news—in the evening hours or via their preferred social network, Facebook.
This information is crucial in implementing a health resource on CLUW's website. Here is what you can expect each month on the CLUW site, thanks to HealthyWomen:
- Health headlines;
- Recipes;
- Fitness motivation
- Aging well tips
Since many of the survey participants were also active on Facebook, CLUW will be posting the health content monthly on our Facebook page and will offer a free signup to HealthyWomen's weekly newsletters.
Additional survey findings will be presented at the CLUW Convention in November, where CLUW will announce the winners of two $100 gift cards for those who completed the survey.
"I am delighted to report that the survey response rate was double the number anticipated," said CLUW President Connie Leak.
"CLUW truly believes that empowering union women means making sure they have the health information for themselves and their families that they need and want. The outstanding response to the survey makes it clear that we have hit on a topic of particular importance to union women. Many thanks to everyone who answered the survey, as well as to everyone who got it out in the labor movement."
Survey responses came from union women in 36 different states in more than 45 different unions. A total of 566 CLUW members completed the survey.