CLUW Urges Chapters, Local Unions to Create Mentoring Circles – an Effective Tool to Advance Women in the Workplace and in the Union
Mentoring is a widely recognized tool for job, career and union development, particularly for women. Mentoring circles, as discussed at the Coalition of Labor Union Women (CLUW) education conference in April, offer a powerful and accessible variation on the traditional mentor/mentee model. As noted by CLUW President Connie Leak, it is no surprise that CLUW is an active advocate of both practices.
This article, based on a workshop at the CLUW conference, focuses on what mentoring circles are and why CLUW is encouraging its chapters and union women's committees to initiate them — as well as how to create and sustain them.
The Association for Women in Science defines mentoring circles as "a small group committed to meeting regularly and supporting one another with advice, encouragement and information" with a particular focus on "career growth and problem-solving...."
As CLUW Pres. Leak observed, "Some of us have been lucky to have had a mentor…to have been taken under the wing of a more senior advisor/mentor — someone who taught us the ropes, the 'unspoken' rules, the unwritten politics of the union."
"Unfortunately, for women and minorities, what I have just described is most often the exception rather than the rule, as most mentors are men and we know that men — when they look for mentors — most often seek out a mentee who looks like them or looked like them 25 years ago. That excludes many women and minorities....". Read more here.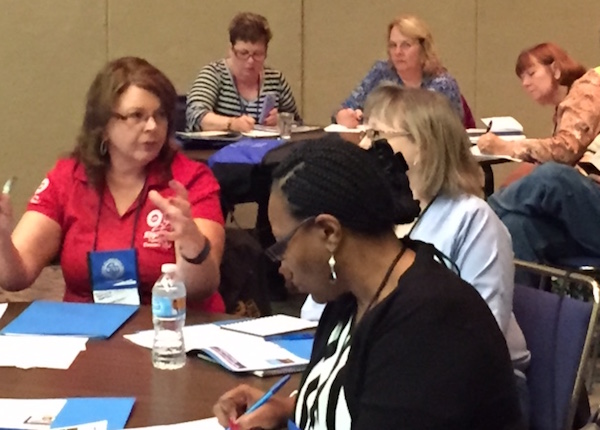 CLUW members discuss mentoring circles as a way to educate and engage members and potential members.