Taking it to the Streets: One Fair Wage Rally
On the first official day of the convention CLUW members from across the nation took the convention's theme, "Women Taking it to the Streets," to heart as they joined forces with the Restaurant Opportunities Center (ROC) United to rally for workers' rights by supporting the One Fair Wage campaign.
Convention delegates and observers marched a few blocks from the convention site to the Spirit of Detroit statue chanting "Corporate Greed Has Got to Go" where they were joined by tipped workers, labor and community allies and women's rights advocates calling for the elimination of the $2.13 per hour sub minimum wage for tipped workers unchanged since 1991.
CLUW President Connie Leak, Saru Jayaraman, Co-Director of ROC United, Mark Dimondstein, President of APWU, Rick Blocker, President of the Metropolitan Detroit AFL-CIO and NaSheena Bland, a restaurant worker were some of those who fired up the crowd by reminding those present that 70% of tipped workers are women with servers more than twice as likely to live in poverty than the general workforce. Forty percent of tipped workers are single mothers feeding a family on $2.13 per hour in spite of restaurant owners trying to convince the public that restaurant workers are very young workers on their way to another career when most are in their late thirties.
In addition, at a time when sexual harassment and assault are unfortunately current topics in the entertainment industry we cannot forget that the restaurant industry has the highest rates of sexual harassment complaints than any other industry. Tipped workers earning a subminimum wage are dependent on the generosity of customers for their income, rather than their employers. As a result, they must often tolerate inappropriate behavior from customers, and are vulnerable to sexual harassment from coworkers and managers.
Rally speakers emphasized the importance of organizing as a community, recognizing the rally being the kick off for a Michigan ballot initiative calling for raising the state's minimum wage to $12 coupled with the phasing out of the lower wage for tipped workers. Similar initiatives have proven successful in other states and have lessened the wage gap for women and decreased poverty rates for tipped workers in general.
In the spirit of the 'streets' and through action on the convention floor CLUW delegates dedicated themselves to fight for economic fairness and justice for women and all workers.
For more pictures of this rally check out the photo gallery and click here to watch a short video with more information about the One Fair Wage campaign.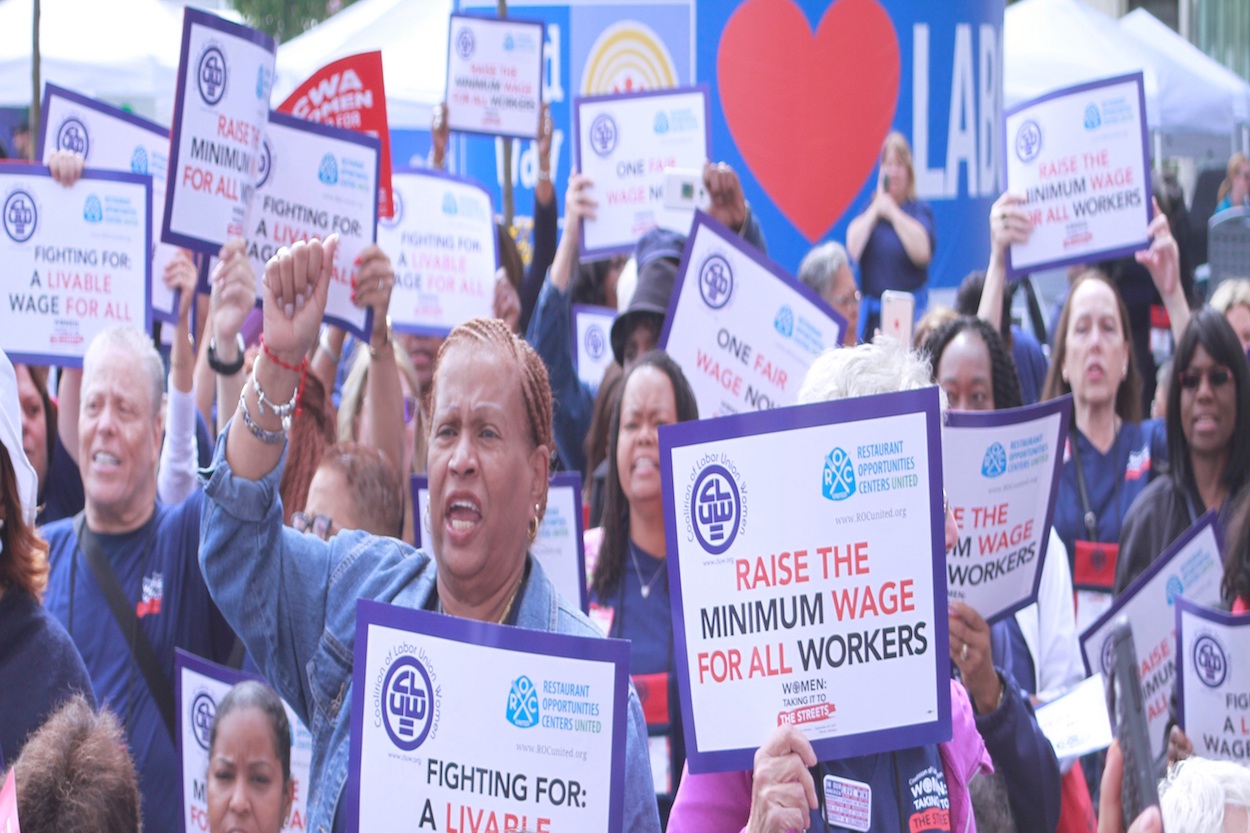 CLUW Members at the Rally