CLUW National Executive Board Conference Workshops Build Vital Skills and Knowledge
On Friday, November 30, 2018 over a hundred CLUW members and supporters gathered at the Pointe Hilton Squaw Peak Resort in Phoenix, Arizona for a one-day SNAP: Sisters Not Afraid of Power – Building for the Future Conference. This powerful conference gave attendees the chance to choose from comprehensive workshops to expand their skills and knowledge regarding chapter and state finances, constitutional compliance, building better chapters, or the union's role in addressing sexual misconduct.
The first workshop choice was mandatory for all chapter and state officers attending the conference and was broken into two parts. The first section covered financial responsibilities and was timed to provide assistance to CLUW leadership prior to mandatory annual reporting. It was formulated by National Treasurer Judy Beard (APWU) and facilitated by Marilyn Wiley (OPEIU), Sec. APWU Legislative and Political Dept. with support by national vice presidents Karen Bellamy Lewis (IFPTE) and Rachel Walthall (APWU). New York City Chapter President Rhonna Bonsu (AFSCME) found the presentation highly valuable stating "we need this at every NEB and convention." The section on constitutional requirements was taught by CLUW National Vice President Rhonda Rogers (IAMAW) and Mary Halford (NALC) found it "extremely useful for those hoping to start a new chapter."
Lisa Blake, CLUW National Vice President (OPEIU), conducted a workshop on best practices for building stronger CLUW chapters and increasing membership. Angela Dulaney (UAW) said of the workshop, "Lisa Blake was phenomenal. She was very engaging and included everyone. Best information and instruction in a long time."
The last option titled "The Union's Role in Addressing Domestic Violence, Sexual Assault, Stalking and Sexual Harassment" was led by CLUW National Vice President (USW) Janet Hill and Mary Jo O'Neill, Regional Attorney of the EEOC Phoenix District Office. Karen Magee (AFT) loved that the workshop "had real scenarios to facilitate the sharing of the information" which made for "a great learning experience."
Overall attendees reported that they are excited to apply their new knowledge back at their chapters. These new skills are sure to help CLUW organize internally and expand our impact in the greater community.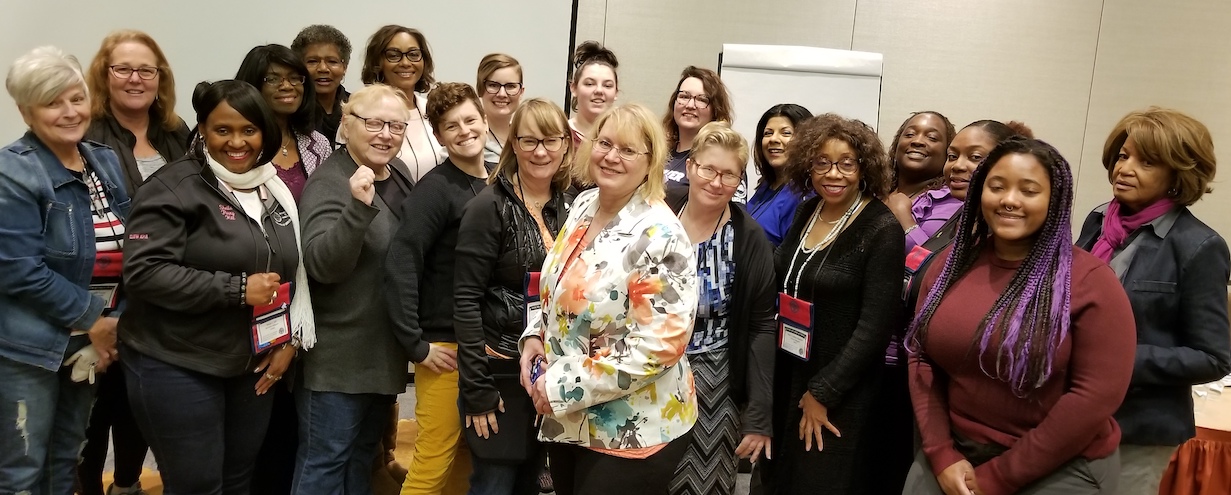 Sexual Harassment Workshop: Janet Hill front with participants