Latina Equal Pay Day Brings Opportunities to Get Involved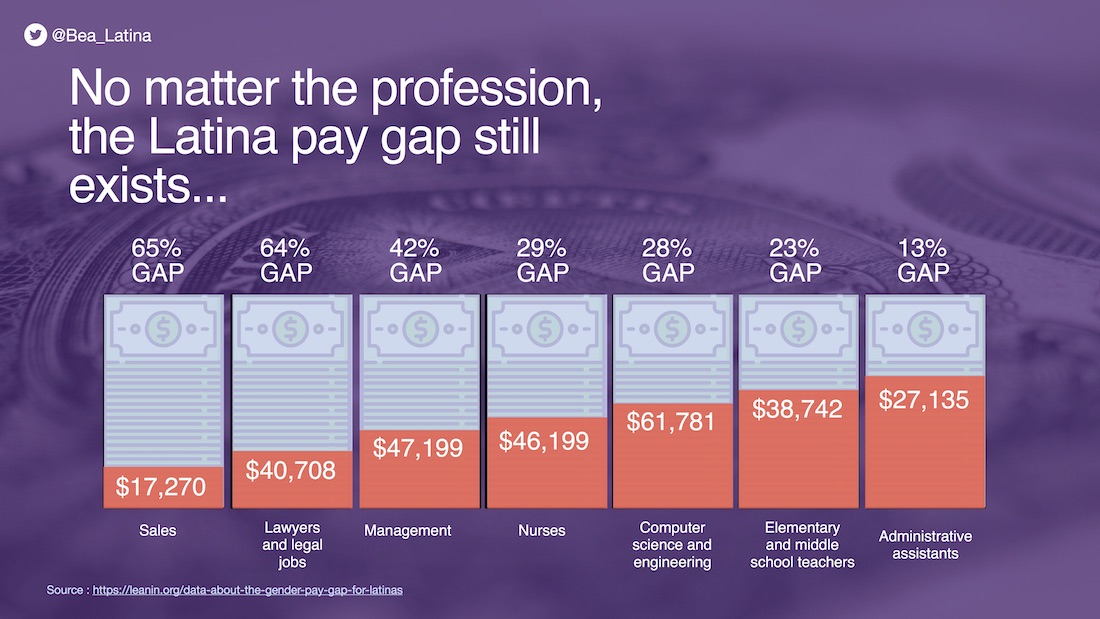 Wednesday, 11/20/2019, is Latina Equal Pay Day that marks the date when Latina women's earnings catch up to those of non-Hispanic white men from the previous year. It is an outrage how much hard earned pay is lost to the wage gap. Did you know: if the gender pay gap does not improve, Latina women will continue to lose $28,036 every year, and $1,121,440 over the course of a 40-year career. We need to press Congress to pass laws aimed at closing this unfair and discriminatory pay gap!
The Paycheck Fairness Act is one such law that addresses this issue directly by amending the equal pay provisions of the Fair Labor Standards Act of 1938 to close loopholes that have allowed pay discrimination to continue for far too long. Additionally the Raise The Wage Act would also significantly diminish the wage gap by increasing the federal minimum wage from $7.25 to $15 per hour by 2025 and phasing out the exceptions that leave many tipped workers, young people, and those with disabilities making a subminimum wage. Since Latinas are overrepresented in minimum and subminimum wage jobs, passing both of these acts is vital to creating a more equitable future.
This Latina Equal Pay Day there will be many opportunities to help raise awareness about the wage gap for Latina women. Please visit https://www.latinaequalpay.org/ for the best information on how to get involved, including taking part in the National Summit in Washington DC. Please get involved by sharing the sample social media posts below:
The wage gap means less money for necessities like groceries and rent. Latina women can't wait any longer to close the #WageGap. #LatinaEqualPay #DemandMore
Collective bargaining is an important tool to close the gender wage gap. All workers deserve the right to join a union to be afforded better working conditions & equal opportunities. Organize, mobilize, resist! #LatinaEqualPay #Trabajadoras #1u
#LatinaEqualPay Day represents the approximate extra time that Latinas must work in the current year to make the same amount of money white, non-Hispanic men did in the previous year. Over the course of a 40-year career, Latinas will be denied over a million dollars in earnings because of the gender wage gap. Let's fight for equal wages and put an end to the inequality that #Trabajadoras face.
A report by the U.S. Bureau of Labor Statistics states that Latina union members were paid $12,220 more than non-unionized Latina workers in 2018. My union fights for equal pay! #LatinaEqualPay
More than half of Latina mothers are breadwinners in families with children under 18. Eliminating the #wagegap would provide much-needed income to Latinas whose wages sustain their households. #LatinaEqualPay #DemandMore
Farmworker women already toil on difficult, laborious tasks in agricultural fields to barely make ends meet. To make matters worse, they are often paid on their husband's paychecks. They deserve equal pay for their work and their own paychecks. Join us on November 20th to demand #LatinaEqualPay for all Latina women, in all job sectors.
If the annual wage gap were eliminated, a Latina working in the US would have enough money to pay for almost two additional years of tuition and fees for a four-year public university, or the cost of tuition and fees for a 2-year community college. #LatinaEqualPay #DemandMore
For more information on how the pay gap affects women please see this factsheet from News Guild that details the differences unions can make in closing the pay gap. The National Women's Law Center has also put together a full document of information about stats specifically related to Latina women that you can find here.