CLUW Recognizes Its Leaders at Convention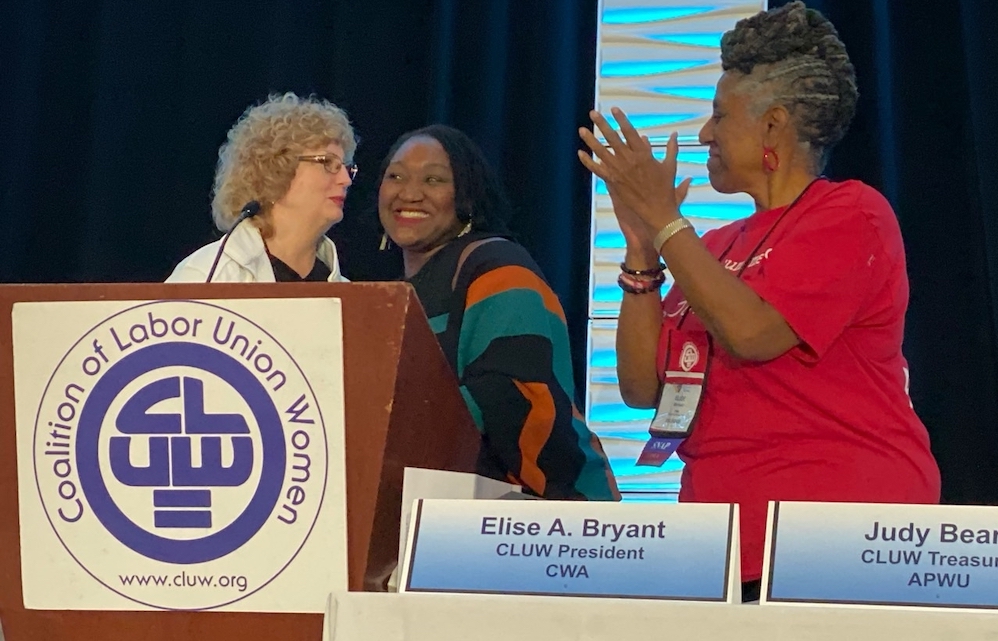 Dee Gorczyca receives Mother Jones Award from Karen Bellamy Lewis (IFPTE) National VP and Pres. Elise Bryant
At CLUW's 20th Biennial Convention Dolores (Dee) Gorczyca received the Mother Jones Award in recognition of her lifelong contribution to bettering the lives of all workers. She served for twenty six years as International Representative and former National Secretary/Treasurer of IFPTE and is now retired. In 2016 she was nominated by the Governor of NJ and confirmed by the State Senate to the NJ Civil Service Commission, a position she still holds. Dee also served for eighteen years on CLUW's National Officers Council as a national vice president and then as executive vice president. She is currently the state vice president from New Jersey. She is a lifetime member of CLUW.
Five CLUW state presidents were recognized with the Clara Day Award: Angela Ferritto (AFSCME), PENNSYLVANIA State President; Mary Groves (CWA), TEXAS State President; Robin Robertson (APWU), MISSOURI State President; Davida Russell (AFSCME), OHIO State President and Stephanie Thornton (UAW), MICHIGAN State President.
Clara Day, the award namesake, was an African-American member of the International Brotherhood of Teamsters (IBT) and one of the founding members of CLUW, serving as Midwest Vice President in 1974 and elected as National Executive Vice President in 1988 through 2001. She was a member of Local IBT 743 in Chicago, organizing workers in Montgomery Ward in 1953 and fighting against racial and gender discrimination on the national and local level throughout her life. CLUW established an award recognizing State President(s) that best emulate her life and presenting to those honored at biennial conventions.
Denise McLain (AFSCME) received the Gloria Johnson Scholarship that promotes a mentoring relationship with a young woman.


l-r Clara Day Award Recipients and Officers: Nat'l Treas. Judy Beard, Mary Groves, Angela Ferritto, Veronica Johnson and Barb Young, Presidents of MI Capitol Area and Genesee County Chapters accepting on behalf of Stephanie Thornton, Robbie Robertson, Sheila Dawkins-Finn, Trustee of the NE OH Chapter accepting for Davida Russell and Nat'l Pres. Elise Bryant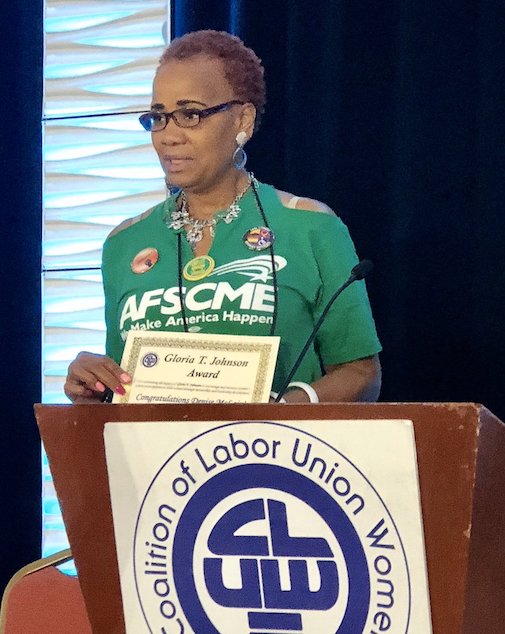 Denise McLain receives the Gloria Johnson Scholarship