CLUW National Executive Board Meets November 13: No Turning Back!!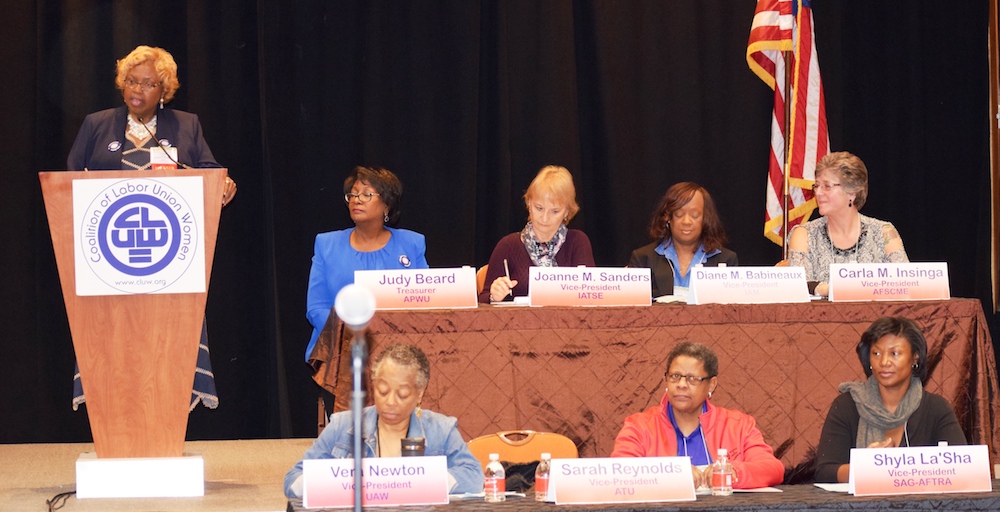 President Connie Leak reports to the delegates (pictured along with some of the National Officers Council)
One hundred and twenty CLUW activists from throughout the country met at the Tropicana Las Vegas hotel only days after the 2016 election to plan, strategize and mobilize for the year ahead. President Connie Leak in her report to the delegates acknowledged that she had hoped the election results would have been different, but that did not change our resolve. "As women we know what it means to struggle and no matter what the future may bring we will work to make life better for working women. That is our mission. That is what we will do." She received a standing ovation when she asked the crowd if they were "with her".
Part of this strategy involves growing CLUW and 2 new chapters received charters at the meeting – see photos for more information. Debra Berko, Secretary-Treasurer of the Southern Nevada CLC brought greetings and updated us on election victories in her state. See information here.
Twenty-three committees met to map out plans for the future in areas such as electoral organizing (recognizing the importance of senate races in 2018), community partnership, legislative/political action (fighting right to work legislation in the states) and immigration and its impact on women and families, for example.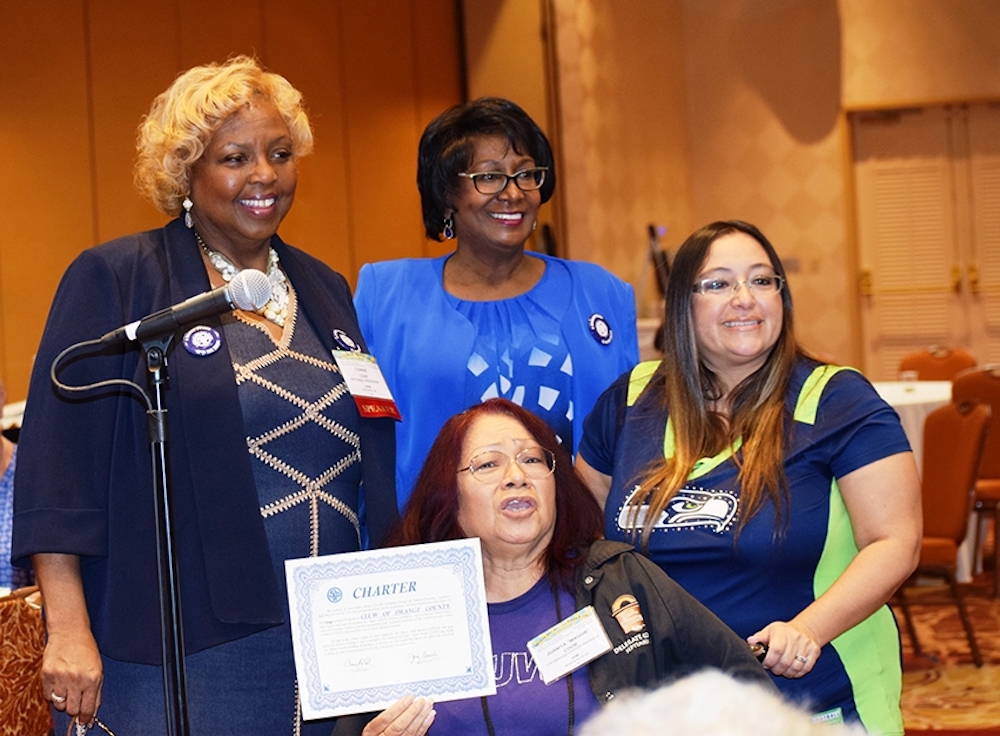 Maggie Cook (Pres. Of LA CLUW Chapter) seated accepts charter for CLUW of Orange County chapter. Behind her are Pres. Leak, Treasurer Judy Beard and Renee James.
Karen Wing, APWU delegate (see photo) called on those in attendance to stand with the Standing Rock Sioux Tribe in opposing the Dakota Access Pipeline. We were fortunate to have Renee James (UFCW), niece of Maggie Cook (President of the LA CLUW Chapter) both of whom are part Native American (Pame Indian from San Luis Potosi, Mexico) present. Renee spoke to the group about her recent visit and support of Standing Rock. A collection was taken up raising $612 to be donated. Additional ways you can provide support can be found here. See CLUW Statement here.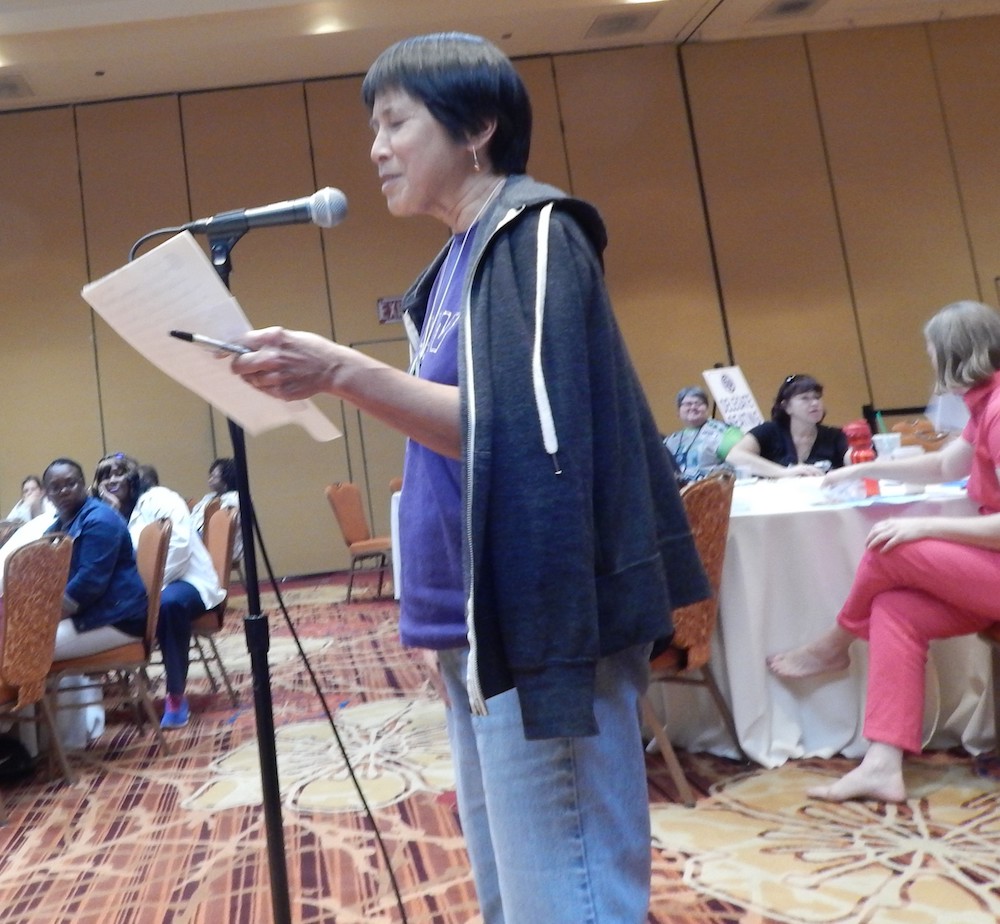 Karen Wing

The enthusiasm of the NEB was followed by a 3 day Women's Leadership Skills Conference.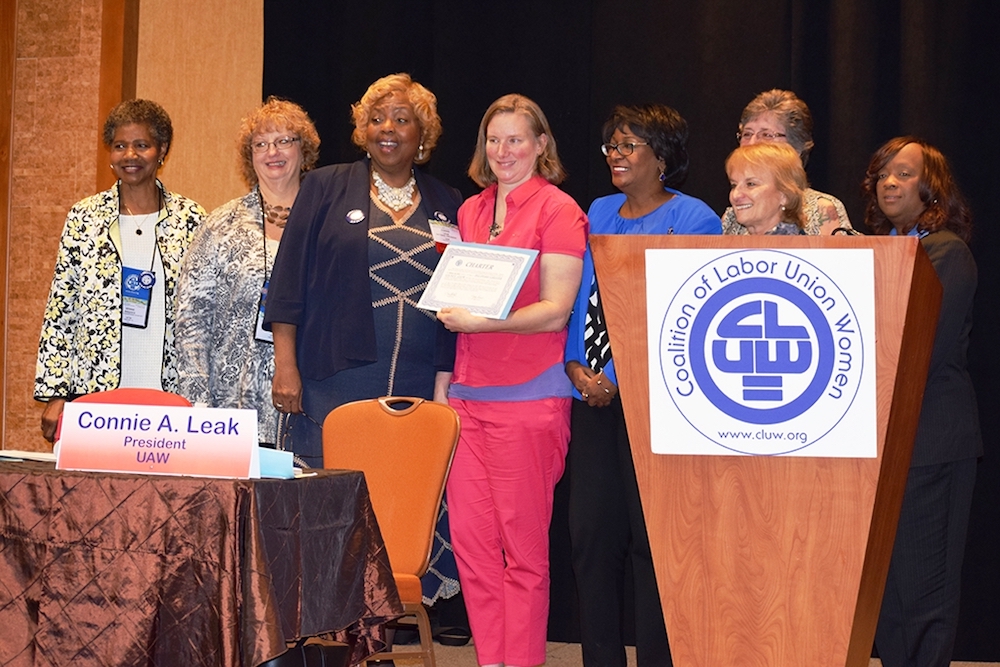 Laura Wentz in center in red (Pres. Philly CLUW) accepts the charter for Delaware-Chester Counties CLUW Chapter surrounded by CLUW Officers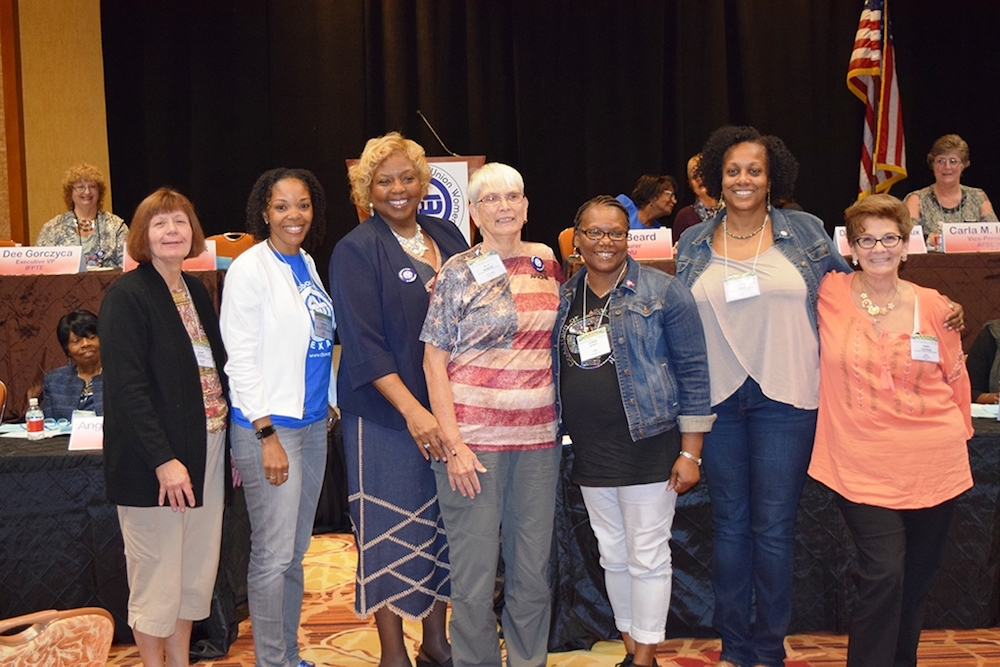 Connie Leak joins new officers who received the oath of office l-right:Denise Szymura Geier, Pres. Western NY Chapter, Dallas Chapter Pres. Sherron Molina, Neshaminy Bucks Cty CLUW Pres. Elly McNelis, Lorain Cty. Pres. Bernita White, Derby City Pres. Vanda Moore and Snohomish County Pres. Sandy Hastings

Page Last Updated: Dec 01, 2016 (07:05:59)